Browse Categories
Subscribe

Get email updates on new products
Contact Us

Shandong Welldone Environmental New Materials Co.,Ltd.
No. 230, Changjiang Road, Qingdao, Shandong, China
Phone: + 86-532-68972860
Contact: Lisa Li
Phone: +86-17669680656
Email: lisa.li@welldonechina.com
Website: www.aquasorbchina.com

Contact Now
Superabsorbent Polymers for Liquid Waste Sludge Solidification Excavation
Product Names:Super Absorbent Polymer/Sodium Polyacrylate
Brand Name:WELLDONE Chemical
Model Number:WD-NS368
Appearance:Powder / Granular before absorbing liquid
Application:Water Sludge&Slurry Solidification in  in gas & oil, energy production, mining and many other industries.
sludgeUsed : It is used to solidify and stabilize water constituents in liquid waste .
Liquid-bearing wastes such as wastewater treatment sludge, contaminated sediments, mine tailings, tank bottom sludge and many other industrial waste streams are challenging and costly to manage and pose severe threats to the natural environment.
 
WELLDONE Superabsorbent polymers (SAP) are widely used by site remediation contractors to rapidly solidify liquid-bearing waste on-site for transport and disposal at solid waste landfills.
Compared to commodity absorbents and cement-products, Welldone Chemical  SAP technologies offer superior absorbency and retention which allows remediation professionals, waste treatment facilities, and landfills to minimize treatment amendment quantity, time on-site, disposal costs, and releases of contaminants to the natural environment.  Furthermore, Welldone chemical super absorbent polymer SAPs are safe to handle and do not require special health and safety precautions or PPE.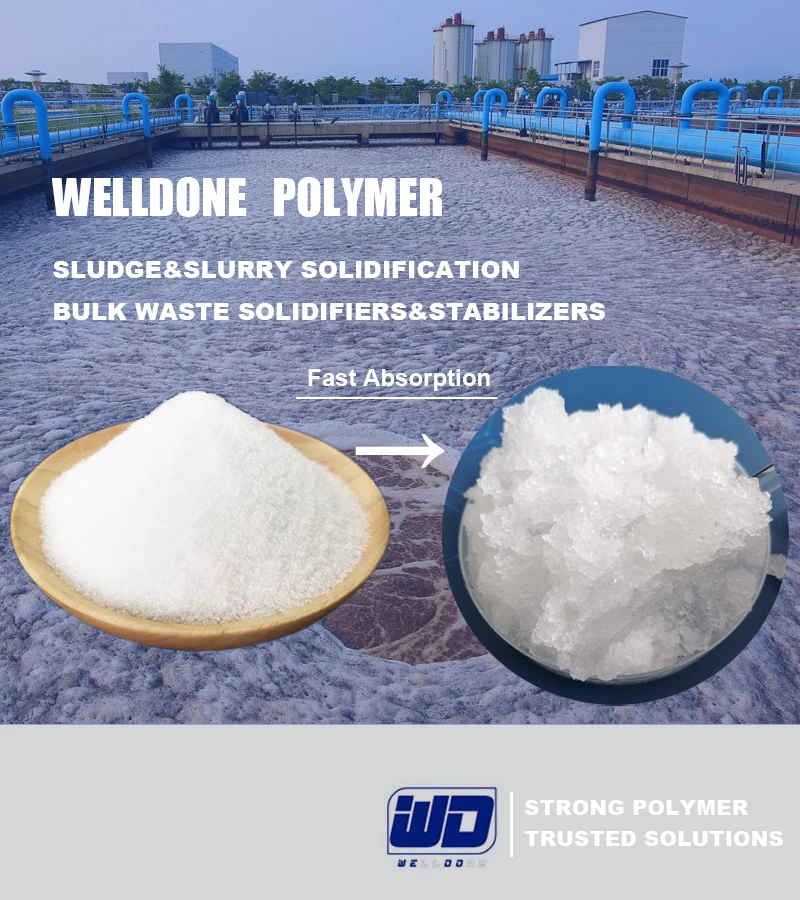 Advantage of WELLDONE China super absorbent polymer :
1、Strong Water Locking Ability
2、Better flocculation WELLDONE China superabsorbent polymer can obviously speed up the solid-liquid separation of waste mud.
3、High Absorption Capacity : High absorption capacity in mud up to 46.33 g/g
4、Fast Absorption Speed : Reduce the moisture content and flow speed of mud, so that it changes from flowing state to plastic state, and realize the rapid solidification of waste mud. (When added the WELLDONE super absorbent polymer to the mud, it can be greatly reduced within 30 min)
Product Model : WD-NS368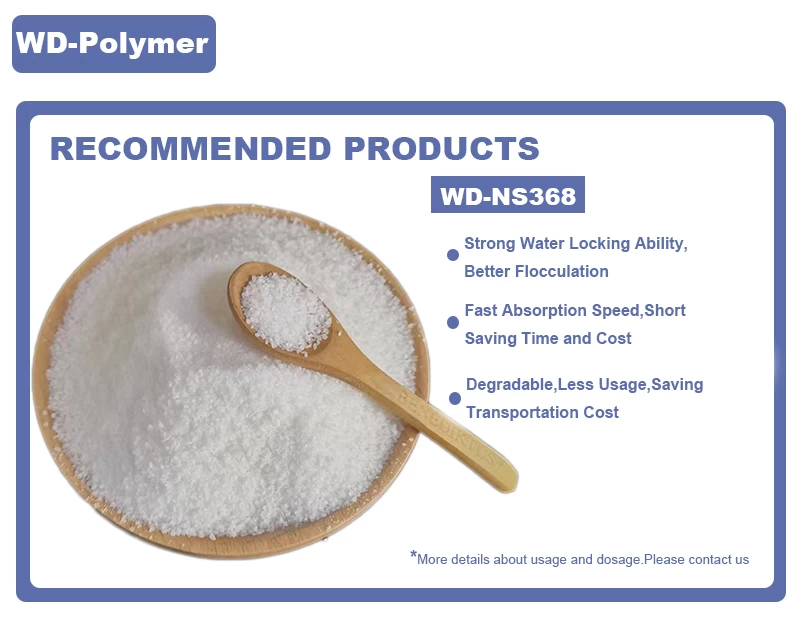 Please contact us for more information on the proportion and usage of Welldone super absorbent polymer to  solidified mud.
Shandong Welldone Environmental New Materials Co.,Ltd.
Tel:+8617669680656
Wechat:+8617669680656
Contact Person:Lisa Li
PDF Show:PDF