Browse Categories
Subscribe

Get email updates on new products
Contact Us

Shandong Welldone Environmental New Materials Co.,Ltd.
No. 230, Changjiang Road, Qingdao, Shandong, China
Phone: + 86-532-68972860
Contact: Lisa Li
Phone: +86-17669680656
Email: lisa.li@welldonechina.com
Website: www.aquasorbchina.com

Contact Now
Super Absorbent Polymer for Fruit Trees
1. Dry Matter :85% - 95%
2.Appearance of the product :Dry = white powder ; Hydrated = transparent gel
3.Particle size : Powders, micro granules, granules
4.Maximum absorption (in w/w)* : ≥350 in deionized water;150 in soil
5.Dosage : 100-150g/Tree for adult tree ; 50-80g/tree for young tree
Product description:
WELLDONE SAP®is China Polyacrylate de potassium manufacturer Potassium polyacrylate mainly used for planting of trees , Arboriculture palm , bushes fruit tree etc .
It has strong water retention in the tree, which enables the roots of trees to maintain moisture continuously to improves the survival rate of tree transplantation, promotes root development and thus brings faster growth and production by 15-25%.
How it works : Water retention agent is a kind of super absorbent resin, the polymer contains a large number of strong water absorption groups. .
Method in planting of trees :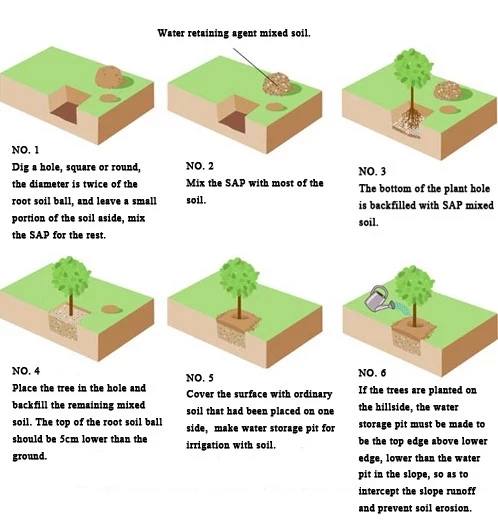 1. Dig a hole about three times the volume of the root system,retained a small of excavated soil aside.
2.The remaining soil mixed with SAP (Super Absorbent Polymer)1 to 2 kg of SAP per m3 into the earth fill.
3.The bottom of the planting hole filled with a part of the SAP(Super Absorbent Polymer) mixed soil
4.Put the tree in the hole,fill in the remaining sAP mixed soil, the root soil ball top should be lower than the ground 5cm.
5.The common soil previously placed side cover on the surface,With the earth do irrigation reservoir
6.Watering

Shandong Welldone Environmental New Materials Co.,Ltd.
Tel:+8617669680656
Wechat:+8617669680656
Contact Person:Lisa Li
PDF Show:PDF
Other Products