Browse Categories
Subscribe

Get email updates on new products
Contact Us

Shandong Welldone Environmental New Materials Co.,Ltd.
No. 230, Changjiang Road, Qingdao, Shandong, China
Phone: + 86-532-68972860
Contact: Lisa Li
Phone: +86-17669680656
Email: lisa.li@welldonechina.com
Website: www.aquasorbchina.com

Contact Now
Seed
1.Product name:Potassium polyacrylate
2.Other name:Water retaining agent
3.Appearance:Powder / Granular before absorbing liquid
4.Odor:Imperceptible
5.Application:Agriculture,Avocado Seed
6.Function:Drought control
7.Water absorption:350-1200 times (Customizable)
8.Physical property:Non-toxic, Harmless, Nonpolluting
9.Sample:Free for test
Product Description:
Water-retaining agent is a kind of functional non-toxic and harmless biodegradable functional polymer material with particularly strong water absorption capacity. Potassium polyacrylate can release and absorb water repeatedly, absorb water when the soil is full of water, and release water when the soil is dry. Therefore, people in agriculture compare water retention agent to "micro reservoir". At the same time, Polyacrylate de potassium can also absorb fertilizers and pesticides, maintain soil temperature, and release slowly to increase fertilizer efficiency and medicine effect.
The effect of  Potassium polyacrylate for Avocado tree:
1.Water retaining agent will ensure the water supply of the seedlings in the soil, prevent the roots of the avocado seedlings from rotten roots due to excessive water, and the soil is dry with little water.
2.Water crystal gel enhances avocado tree soil permeability, 
3.Reduces irrigation frequency of avocado ,
4.Improves the survival rate of avocado seedlings,
5.Maintain soil temperature
6.increases Avocado yield.
7.Environmental protection and biological explanation
Usage Method  &  Dosage of Water retainers for  Avocado seedlings:
1.Take out the core or Transplanting avocado seedlings,
2. Mix WELLDONE Super absorbent polymer with soil,
3.Plant Avocado Seedlings in soil mixed with water retention agent,
4.Then watering,
5.Improves the survival rate of avocado seedlings.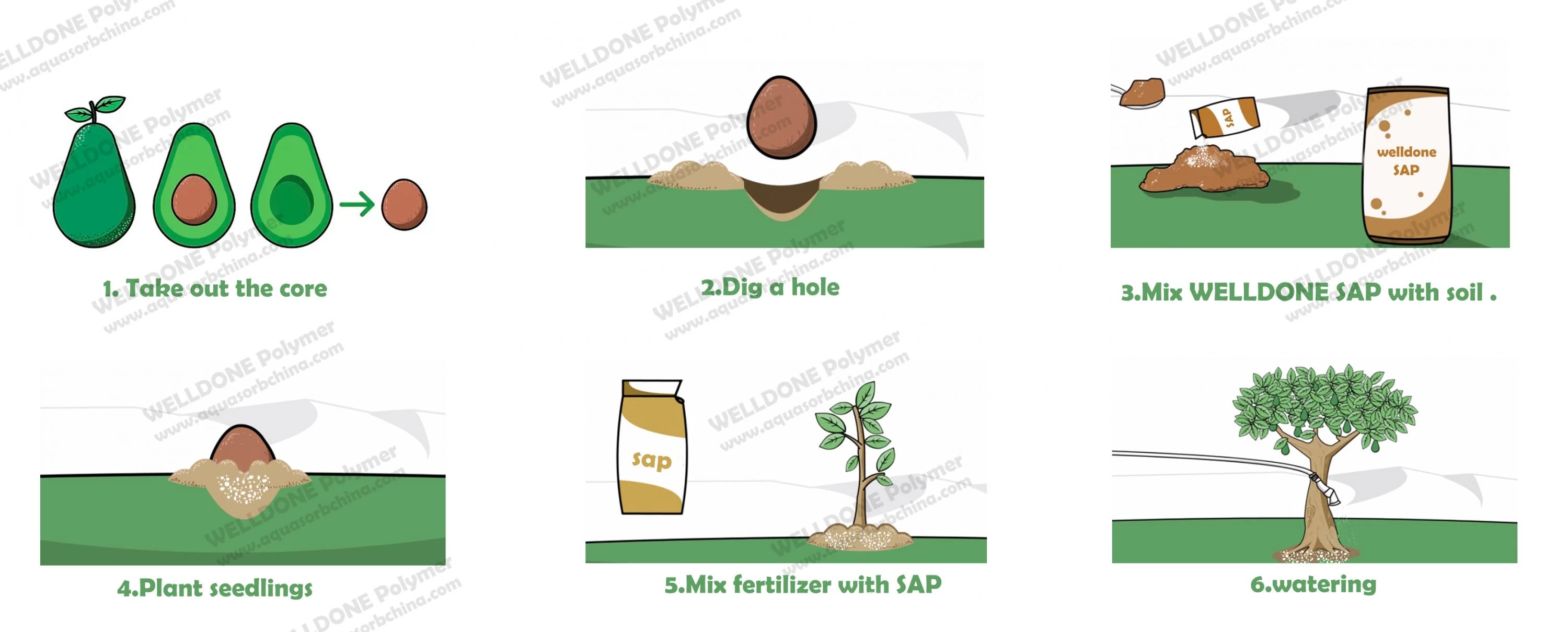 Dosage : 

-- SAP for avocado seedlings :50g-100g/plants
Recommended WELLDONE SAP product  for Avocado seedlings:

 WD-KS02  with micro granules ; WD-K03 with powder.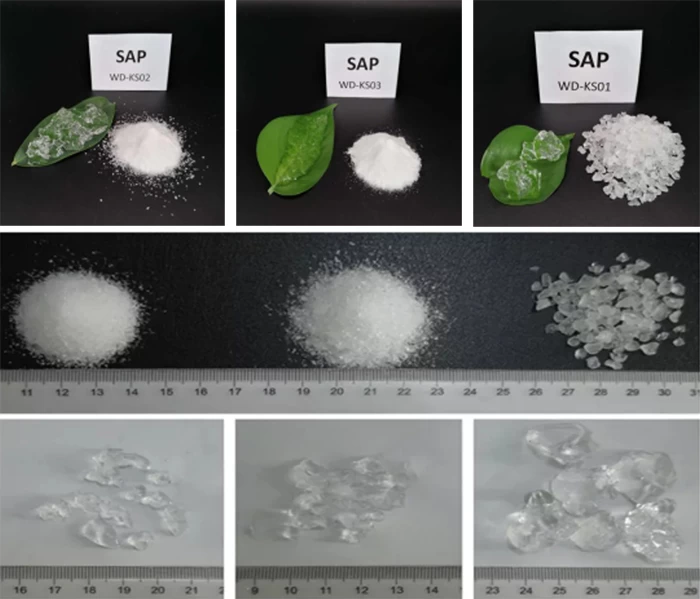 Shandong Welldone Environmental New Materials Co.,Ltd.
Tel:+8617669680656
Wechat:+8617669680656
Contact Person:Lisa Li
PDF Show:PDF
Other Products