Browse Categories
Subscribe

Get email updates on new products
Contact Us

Shandong Welldone Environmental New Materials Co.,Ltd.
No. 230, Changjiang Road, Qingdao, Shandong, China
Phone: + 86-532-68972860
Contact: Lisa Li
Phone: +86-17669680656
Email: lisa.li@welldonechina.com
Website: www.aquasorbchina.com

Contact Now
Potassium polyacrylate for Soils and Substrates
1.Other Names:Super Absorbent Polymer/Potassium polyacrylate
2.CAS No.:25608-12-2
3.Appearance:Powder/Granular before absorbing liquid
4.Purity:94% (Moisture ≤ 6%)
5.Water absorption:350-1200 times (Customizable)
6.Physical property:Non-toxic, Harmless, Nonpolluting
7.Brand Name:WELLDONE CHINA
8.Model Number:WD-KS02
9.Application:Agriculture
10.Function:Drought control
11.Place of Origin:China
12.Packing : 25kg per bags.
13.Sample:Free for test
General product presentation:
WELLDONE SAP super absorbent polymer is cross linked Copolymer of Acrylamide and Potassium Acrylate, when incorporated into a soil or a substrate, absorbs and retains large quantities of water and nutrients.
After filled with water,SAP will release the water slowly to roots when soil is dry, and repeatedly absorb water when rain to keep the plant with plenty of water, it can save 65%--95% of water to reduce irrigation frequency.
Unlike most products that become hydrated, WELLDONE Biodegradable Super Absorbent Hydrogel has the property of easily releasing the absorbed water and nutrients, thereby allowing the plant to have water and nutrients available at will as a function of the absorption – release cycles.
3 Product SAP Special for Plants and crops:

Model :
WD-KS01 with larger granules ; WD-KS02 with Micro granules; WD-KS03 with Powder .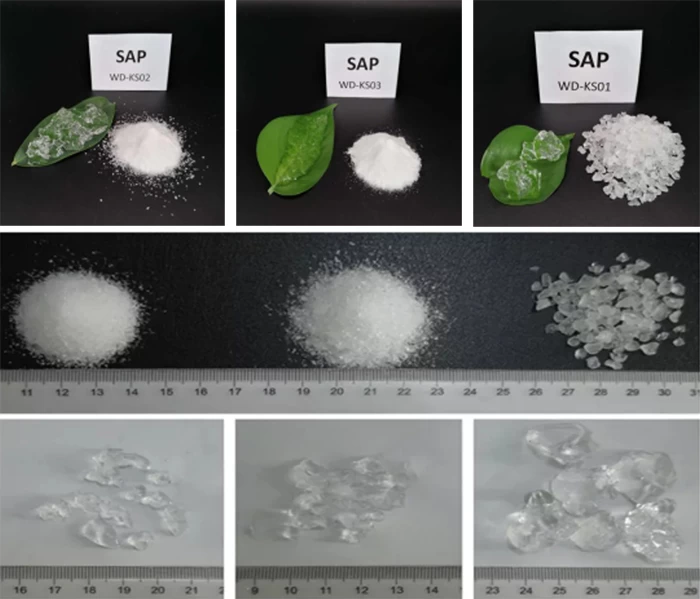 WELLDONE SAP Features & Benefits :

•Save Water 50%
•lncrease Yield 20%
•Save Labor 50%
•Transplant survival rate 99%
•Product Effect Within7 Days
•3 Years of Product Shelf life
•5+Years of Effectiveness In Soil
•lmprove Fertilizer Utilization Rate 65%
•There are many applications in agriculture: all crop,tree planting, nurseries, transplanting, landscaping, large scale farming etc…

HOW IT WORKS:

Super absorbent polymer has the property of absorbing up to four hundred times its weight in distilled water and it becomes gel.
In contact with water, the polymer network expands thanks to an osmosis process and stores the liquid into its structure.
Into the soil, the polymer swells in wet conditions and readily releases the liquid in dry conditions.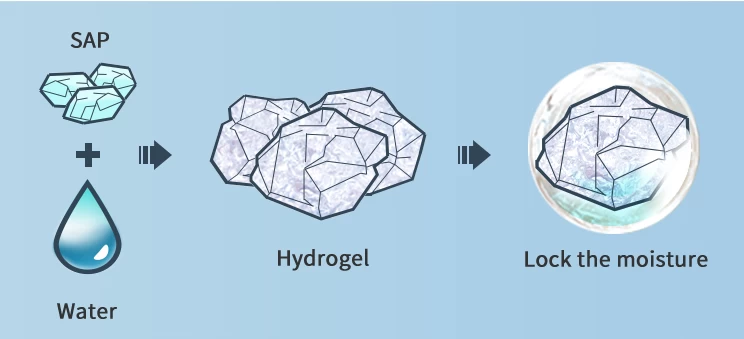 Methods of incorporation:

Forestation
The WELLDONE SAP pre-hydrated is implemented directly in the field, by hand or with specific tools (forestation; landscaping).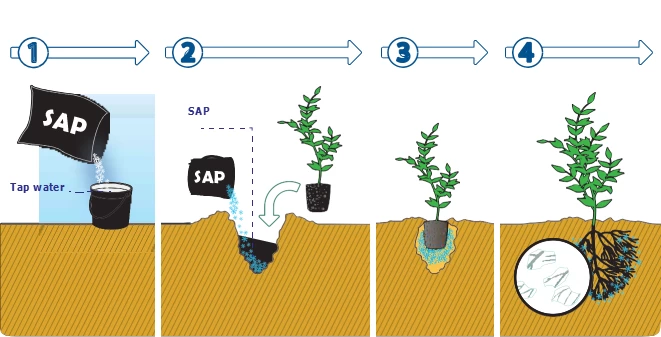 Shandong Welldone Environmental New Materials Co.,Ltd.
Tel:+8617669680656
Wechat:+8617669680656
Contact Person:Lisa Li
PDF Show:PDF
Other Products